Calmiclip®
CALMICLIP® is a product concept allowing a simple, fast and highly aesthetic installation of natural stone setts.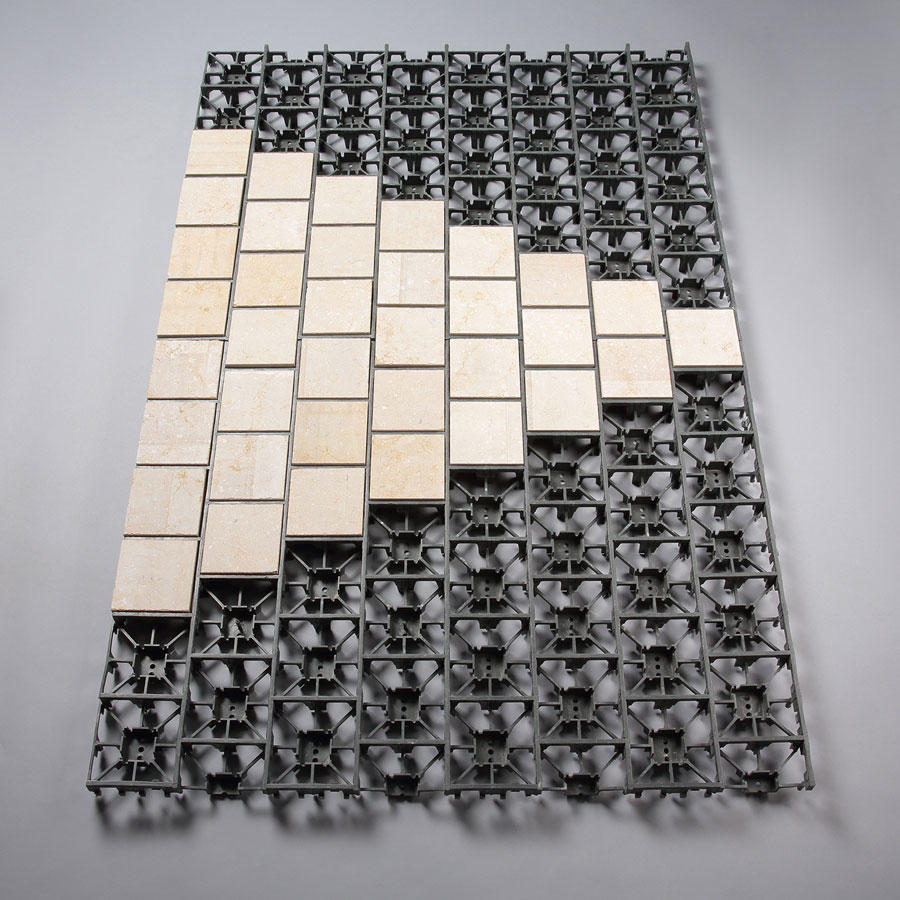 An innovating concept which allow an easier natural stone sett laying.
CALMICLIP is composed of a high-strength polypropylene grid of 4 cm thick in which are inserted natural stone setts.
Its specifically developed form has many advantages:
Ultra-resistant thanks to reinforcing bridges and 96 load bearing studs.
Perfectly suitable for for vehicles : load of resistance 100 tons per m².
Permeable and draining, the system of installation without joint allows a fast return of the rainwater towards the water tables.
Non-slip, surfaces equipped with CALMICLIP® allow everyone to easily circulate without risk of slipperiness.
CALMICLIP® is ideally suited for sloping pavers (up to 10%), thus avoiding any stagnation of rainwater and the risk of ice in winter.
The natural stone pavers that come to fill the grid are not a chemical process, but simply mechanical cutting the size and shape needed.
CALMICLIP® is a French product.
Paving has never been so easy !
Simplicity and speed of implementation on previously stabilized soil.
Assembly by casing and clipping
The filling of the grids is done standing (avoiding fatigue and uncomfortable working position).
Cutouts using an angle grinder. Tooling on site is very limited.
No glue, no sealing mortar: the grid materializes the joints between the setts, and presents a regular laying of setts.
Laying at any seasons at +5°C minimum.
Construction site without difficult cleaning of equipment.
Finishes : as sawn, flamed or bush-hammered
Mandatory realization of borders.
Possibility of disassembly and reassembly (pass the electrical conduits and water through grids).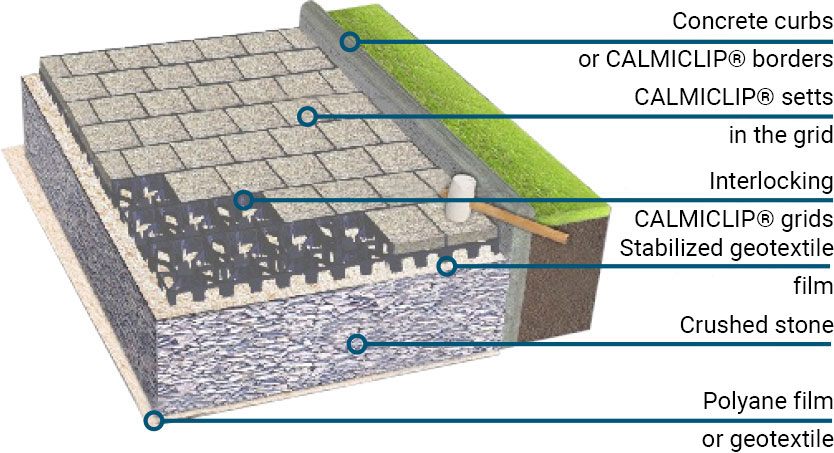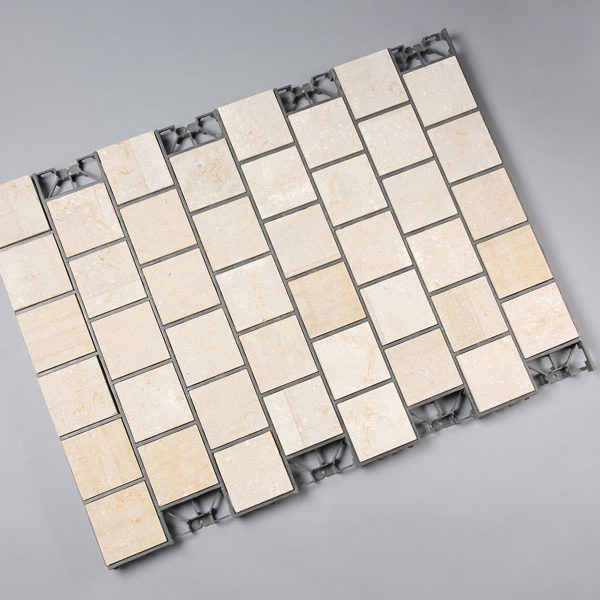 The advantages of Calmiclip, simple and fast laying of natural stone pavers
Thickness 4 cm
Pavement : 15cm
Resistance to the load: 100 T / m2
High resistance grid
Assembly by interlocking and clipping
Non-freezing and non-slip
Seamless laying
Draining
Slope up to 10%
Fast and simple installation: up to 50 m2 to 2 people per day
Laying at any seasons at +5°C minimum
Immediately suitable for cars.
Removable

CALMICLIP® is recommended for :
Aisle
Square
Sidewalks
Downhill of garage
Terrace
Complementary products :
Border
Light sett
CALMIPROTECT®/ CALMICLEAN®